Sweetbriar Farm Cheese and Neufchatel Kit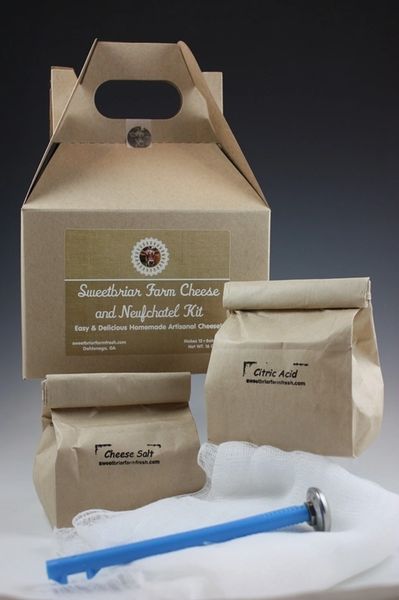 Sweetbriar Farm Cheese and Neufchatel Kit
DIY Sweetbriar Farm Cheese and Neufchatel Kit
Description:
Sweetbriar Farm Cheese is one of our favorite cheeses to make. It's wonderful for breakfast, lunch and supper. It is a cheese that you can cut to put on a hamburger or crumble to put in a salad. You furnish the milk. Add your own herbs to put a kick in the cheese such as red peppers, jalapenos, fresh garlic or make your own concoction. Contains no preservatives or chemicals, basic all natural.
For a more spreadable cheese for crackers make the Sweetbriar Neufchatel. You furnish the milk and buttermilk. Add your own herbs or smoked salmon for a zesty spreadable cheese. Great for parties and everyday healthy snacking.
Kits Made in the USA (Dahlonega, GA). Cheese made by YOU!
Included in this kit are:
Instructions

Cheesecloth

Thermometer

Vegetarian Rennet

8.0 oz. Citric Acid

8.0 oz. Cheese Salt
Featured Products