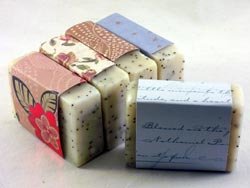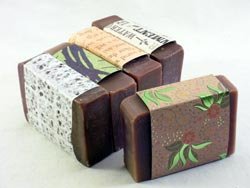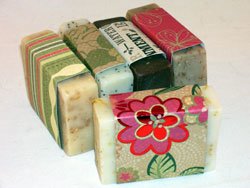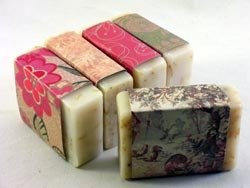 Premium-wrapped handmade soap perfect for gift-giving – great soap, beautiful wrapping! Available in Lemon Verbena, Tea Tree Oil Soap, Lavender, Patchouli Sandalwood, and Man Soap
Sweetbriar Farm proudly introduces our selection of handmade soaps – made from olive, coconut and palm oils with textures of oatmeal or poppy seeds. Treat yourself to soothing, light fragrances and lather up!

All soaps are cold-process and handmade using only the best of ingredients. Fragrances are designed especially for soap-making. We do not use dyes. All bars are labeled with their ingredients. As with any soap, test on a small area of skin before using.
Have you ever read the ingredients list on the soap you buy at the store? Sodium lauryl sulfate? Titanium dioxide? What is all that stuff?
We "cold-process" the soap using quality ingredients, listed on the label of every bar. You recognize these: olive, coconut and palm oils. Lye, which changes to soap when it's mixed with the oils. Fresh water from our mountain well, tested and with excellent purity. Food like oatmeal, poppy seeds or coffee to add a gentle scrub or other benefits to the soap. And lastly, often a light fragrance oil that is commercially formulated for soap-making. It's so natural and so moisturizing compared to those mass-produced soaps!